Bridal Fashion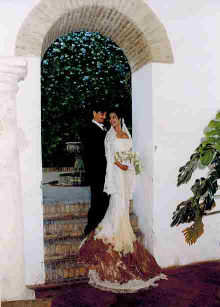 Your personality and your style should imbue that perfect day, when you are the most important, when everything revolves around you. Your wedding, party or ceremony dress must be at the height of you dreams, so that you feel the only one, perfect, and they enhance everything that is special in you. The exclusiveness of these unique designs, devised just for you, to fulfil your dreams in that special event.
Let the design, textures, volumes, lines, delicate fabrics and the fantasy of a creator, be at your service, to fit you and not anyone else. Because you are the protagonist. Your

hopes

and your

wishes

come true to make that date a day completely unforgettable.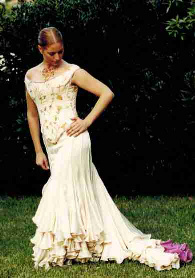 VÍCTOR MUROs bridal designs offer you a unique and inimitable style that will not be overshadowed by anything or anyone. Let imagination and know-how shape fresh, delicate designs, far from the conventional, to bring your best.
Tulle, chiffon, satin, laces, passementerie, fringes, tassels, embroidery are combined as a whole that highlights your

essence

, offering the perfect blend of elegance, sophistication, distinction, originality, uniqueness and preciousness. Because you are

YOU

and no one else can be.
From the most spontaneous to the most complex ideas, all of them have a place in the unique designs of VÍCTOR MURO. Colours, textures, styles, tailored for each woman aiming not to alter the natural beauty
of every bride, but to enhance it, like lights that enliven the perfection of every nature, qualifying the exquisiteness of each woman, framing the image that every woman holds in her heart.
Because bridal design should not mask your

originality

but enhance it,

VÍCTOR MURO

offers you absolutely customized designs, unique, imagined and made just for you.
The best proposal or trend is the one that fits your personality, your likes and your beauty.